Nelson Products
Nelson Exhaust Parts
6" BY 5" Stacks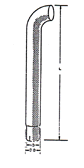 6" O.D. Stack
5" I.D. InletChrome Plated
Curved Turnout
| Inlet I.D. Diameter | Length | Part Number |
| --- | --- | --- |
| 5" | 6' ( 72") | 904476C |
| | 7' ( 84") | 90448C |
| | 8' ( 96") | 90449C |
| | 9' (108") | 90450C |
Dump Truck Stacks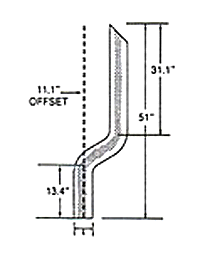 O.D. Dia
Length
Part Number
Aluminized
Part Number
3-1/2"
51"
90525A
90525C
4"
51"
90451A
9054551C
5"
51"
90452A
9052C
Tail Pipes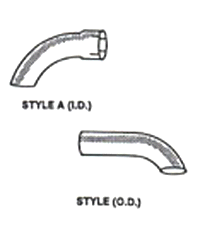 For Horizontal Or Vertical Mounting
Part Number
Style A (I.D.)
Style B (O.D.)
Dia
Length
Aluminized
Chrome Plated
Aluminized
Chrome Plated
2"
10
89140A
89150A
2-1/4"
12
89285A
89284A
2-1/2"
12
89141A
89151A
2-3/4"
12
89142A
89152A
3"
12
89143A
89143C
3-1/2"
12
89144A
89144C
4"
18
89145A
89145C
89155C
89155C
5"
18
89146A
89146C
89156A
89156C
6"
20
89147A
89157A
90° Elbows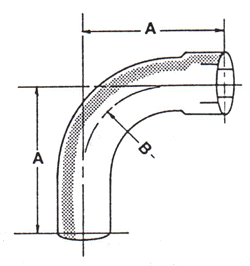 One End O.D. One End I.D. Slotted
Leg Length
Center Line
Part Number
Dia
(A)
Radius (B)
Aluminized
Chrome Plated
2"
9
4
89098A
2-1/4"
10
4-1/2"
89230A
2-1/2"
10
4-1/2"
89099A
2-3/4"
10
5
89232A
3"
8
6
89101A
89101C
3"
14
6
89102A
89102C
3-1/2"
9
6
89103A
89103C
3-1/2"
16
6
89104A
89104C
4"
10
6
89105A
89105C
4"
18
6
89206A
89106C
*4"
6
4
89923A
4"
23 x 30
6
90459A
4-1/2"
12
6
90463A
*5"
11
5-1/2"
89924A
5"
10
8
89784A
89784C
5"
15
8
89107A
89107C
5"
18
8
89108A
89108C
5"
23 x 30
8
90460A
5-1/2"
18
8
90489A
6"
20
10
89109A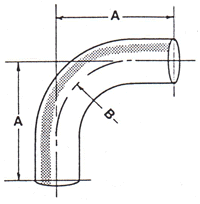 | | Leg Length | Center Line | Part Number |
| --- | --- | --- | --- |
| Dia | (A) | Radius (B) | Aluminized |
| 2" | 9 | 4 | 89110A |
| 2-1/4" | 10 | 4-1/4" | 89231A |
| 2-1/2" | 12 | 4-1/4" | 89111A |
| 2-3/4" | 10 | 5 | 89233A |
| 3" | 10 | 6 | 89113A |
| 3" | 14 | 6 | 89234A |
| 3-1/2" | 9 | 6 | 89235A |
| 3-1/2" | 16 | 6 | 89114A |
| 4" | 12 | 6 | 89116A |
| 4" | 18 | 6 | 89115A |
| 5" | 15 | 8 | 89117A |
| 5" | 20 | 8 | 89118A |
| 6" | 20 | 10 | 89119A |
70° Elbows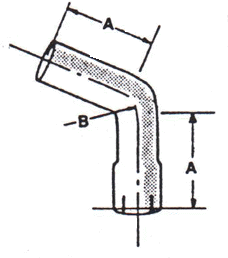 One End O.D. One End I.D. Slotted
| | Leg Length | Center Line | Part Number |
| --- | --- | --- | --- |
| Dia | (A) | Radius (B) | Aluminized |
| 3-1/2" | 12 | 6 | 89237-A |
| 4" | 12 | 6 | 89238-A |
| 5" | 11x7-1/2 | 8 | 89239-A |
67° Elbows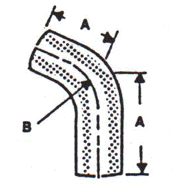 Leg Length
Center Line
Part Number
Dia
(A)
Radius (B)
Aluminized
Chrome Plated
5"
11x7-1/2
8
90465A
90465C
Special Kenworth Elbows

Part Number
KW Part No.
Dia
Leg Length
Side
Horespower
Aluminized
Chrome
K180-B-6599
5"
86" COE
Right
All
89905A
89905C
K180-B-7422
5"
86" COE
Left
350 & Under
89907A
89907C
K180-B-10742-R
5"
Conventional
Right
89901A
89901C
K180-B-10742-L
5"
Conventional
Left
89902A
89902C
45° Elbows

Leg Length
Center Line
Part Number
Dia
(A)
Radius (B)
Aluminized
Chrome Plated
2"
6
4
89071A
-
2-1/4"
6
4-1/4"
89241A
-
2-1/2"
6
4-1/4"
89072A
-
2-3/4"
6
5
89243A
-
3"
7
6
89073A
89073C
3-1/2"
10-1/2"
6
89077A
89077C
4"
8
6
89780A
89780C
4"
12
6
89074A
89074C
4-1/2"
10
6
90488A
-
5"
8
8
89781A
89781C
5"
15
8
89075A
89075C
5-1/2"
15
8
90490A
-
6"
18
10
89076A
-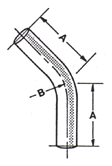 | | Leg Length | Center Line | Part Number |
| --- | --- | --- | --- |
| Dia | (A) | Radius (B) | Aluminized |
| 2" | 6 | 4 | 89081A |
| 2-1/4" | 6 | 4-1/4" | 89240A |
| 2-1/2" | 6 | 4-1/4" | 89082A |
| 2-3/4" | 6 | 5 | 89242A |
| 3" | 7 | 6 | 89083A |
| 3-1/2" | 10-1/2" | 6 | 89087A |
| 4" | 8 | 6 | 89782A |
| 4" | 12 | 6 | 89084A |
| 5" | 8 | 8 | 89783A |
| 5" | 15 | 8 | 89085A |
| 6" | 18 | 10 | 89086A |
90° Short Radius Elbows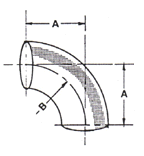 O.D. Both Ends
For Use In Tight Places Where Clearance Is A Problem
*14ga. Aluminized Steel
Leg Length
Center Line
Part Number
Dia
(A)
Radius (B)
Aluminized
Chrome Plated
3"
6
3-1/2"
89090A
3"
3-1/2"
3-1/2"
89091A
3-1/2"
8
4
89092A
3-1/2"
4
4
89093A
4"
8
4-1/2"
89094A
4"
4-1/2"
4-1/2"
89095A
*4"
9x15
4
89925A
*5"
10x16
5 1/2
89926A
5"
10x16
5 1/2
89123A
5"
6-1/2"
5-1/2"
90455C
5"
10
5-1/2"
89096A
5"
5-1/2"
5-1/2"
89097A
6"
6-1/2"
6-1/2"
89236A
15° Short Radius Elbows

| | Leg Length | Center Line | Part Number |
| --- | --- | --- | --- |
| Dia | (A) | Radius (B) | Aluminized |
| 3" | 1-3/4" | 3-1/2" | 89130A |
| 3-1/2" | 1-3/4" | 4 | 89131A |
| 4" | 2 | 4-1/2" | 89132A |
| 5" | 4 | 5-1/2" | 89133A |
Straight Tubing

10 Foot Length
16 Gauge Material
Part Number
Cold Rolled
Aluminized
Aluminum
Dia
O.D.-O.D.
O.D.-O.D.
O.D.-O.D.
2"
89670K
2-1/2"
89671K
3"
89672K
89685K
89660K
3-1/2"
89673K
89686K
4"
89674K
89687K
89661K
5"
89675K
89688K
89662K
5-1/2"
89663K
6"
89676K
89664K
7"
89665K
8"
89666K
Flexible Tubing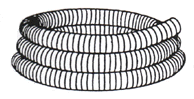 Heavy Duty Galvanized
Heavy Duty Stainless Steel
Heavy Duty Aluminized
Part Number
Galvanized
Stainless
Aluminized
Dia
10' Length
25' Length
10' Length
25' Length
10' Length
25' Length
2"
89640K
89620K
2 1/4"
89648K
89657K
2 1/2"
89641K
89621K
90168K
2 3/4"
89647K
89658K
90169K
3"
89642K
89712K
89622K
89721K
90191K
90213K
3 1/2"
89643K
89713K
89623K
89722K
90206K
90214K
4"
89644K
89714K
89624K
89723K
89759K
89760K
4 1/2"
90519K
90520K
90462K
90523K
5"
89645K
89715K
89625K
89724K
89772K
89773K
6"
89646K
89626K
90208K
Torctite Heavy Duty Clamps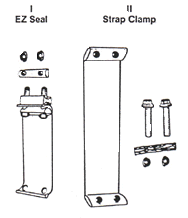 Minimizes Exhaust Leaks
Reduces Need For Welding
Part Number
Size
I
Stainless Steel
EZ Seal
II
Strap Clamp
2"
89521K
2 1/4"
89522K
2 1/2"
89523K
89523B**
2 3/4"
89524K
3"
89525K
89525B**
89525W
3 1/2"
89526K
89526W
4"
89527K
89527B**
89527W
4 1/2"
90464K
5"
89528K
89528B**
89528W
6"
89529K
Clamps shipped 10 per carton
**Bulk pack, 50 per carton
Flexible Tubing Cut To Length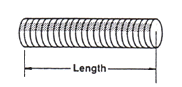 Heavy Duty Galvanized
Heavy Duty Stainless Steel
Part Number
Heavy Duty
Dia.
Length
Galvanized
Stainless Steel
3"
12
89612K
18
89600K
89613K
24
89601K
89614K
36
89602K
89615K
3 1/2"
12
89616K
18
89603K
89617K
24
89604K
89618K
36
89605K
89619K
4"
12
89726K
18
89606K
89727K
24
89607K
89728K
36
89608K
89729K
5"
12
89730K
18
89609K
89731K
24
89610K
89732K
36
89611K
89733K
Flexible Connectors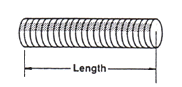 Heavy Duty Galvanized
More Styles Below
Part Number
H/D Galvanized
Dia
Length
Connector O.D.-I.D.
2"
18
89734K
2 1/2"
18
89735K
3"
18
89736K
36
89737K
3 1/2"
18
89738K
36
89739K
4"
18
89740K
36
89741K
5"
18
89742K
36
89743K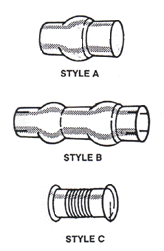 | Style | Diameter | Length | Part Number | Description |
| --- | --- | --- | --- | --- |
| A | 4" 0.D. | 7 1/4 | 89627K | Ball Joint |
| A | 4" I.D. | 7 1/4 | 89628K | Ball Joint |
| B | 4" I.D. | 14 1/2 | 89638K | Double Ball Joint |
| C | 4" I.D. | 8 | 89639K | Mack #4ME 21408-C |
| C | 4" I.D. | 9 3/4 | 90453K | 90RU286P1 GM |
| C | 5" I.D. | 9 3/4 | 90454K | |
Stainless Steel Bellows Connectors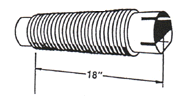 Bellows are leak proof flexible joints for critical applications
Maximum bend is 10o
Stainless steel bellows with aluminized steel connector ends
Part Number
Dia.
I.D.-I.D.
I.D.-O.D.
3"
89786-K
89794-K
3 1/2"
89787-K
89795-K
4"
89788-K
89796-K
5"
89789-K
89797-K
6"
89790-K
89798-K
Flared Connectors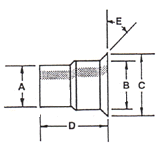 Dimensions
Part No.
A (O.D.)
B (I.D.)
C (O.D.)
D
E (o)
Clamp No.
Application
89955-K
3
3
3 5/8
4
22
89505-K
DD 6V-71
89956-K
3
3 1/8
3 5/8
4 3/4
45
89511-K
89957-K
3 1/2
3 1/2
4
4 3/4
45
89512-K
89958-K
3 1/2
3 1/2
4 1/4
4
22
89506-K
DD 8V-71
89501-K
Cummins
89959-K
4
4
4 1/2
4 3/4
45
89513-K
89960-K
4
4
4 3/4
4
22
89506-K
DD 6-71, 12
89961-K
5
5
5 1/2
4 3/4
45
89514-K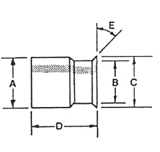 Dimensions
Part No.
A (O.D.)
B (I.D.)
C (O.D.)
D
E (o)
Clamp No.
Application
89968-K
4
2 7/8
3 15/16
3 1/2
20
89508-K
D.D. 8.2 Litre N
89969-K
4
3 5/8
4 1/4
4
22
89506-K
D.D. 8V-71
89970-K
4
2 7/8
3 3/4
3 1/4
20
89500-K
Cummins V-903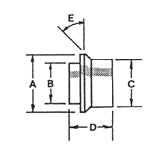 Dimensions
Part No.
A (O.D.)
B (I.D.)
C (O.D.)
D
E (o)
Clamp No.
Application
89971-K
5 1/64
4 1/2
4 13/16
1 15/16
20
89510-K
D.D. 8V-71T,16V-71T
6V-92T, 8V-92T
(For AiResearch Turbos)
16V-92T
89772-K
4 3/8
3 7/8
3 13/16
3
20
89502-K
Switzer Turbo 4LD,
4LE, 4LH, 4LJ,
Switzer #154975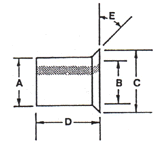 Dimensions
Part No.
A (O.D.)
B (I.D.)
C (O.D.)
D
E (o)
Clamp No.
Application
89962-K
3 1/2
3 1/2
4
3 1/2
22
89531-K
Cat 3208-T
89963-K
3 1/2
3 1/2
4
5
45
89512-K
Detoit Diesel
89964-K
4
4
4 5/8
3 1/2
20
89509-K
D.D. 8.2 Liter T
89965-K
4
4
4 1/2
5
45
89513-K
250 Cummins
89966-K
5
5
5 1/2
5
45
89514-K
Cummins
89967-K
5
5
5 3/4
3
18
89503-K
T-50 Turbo Charger
Straight Connectors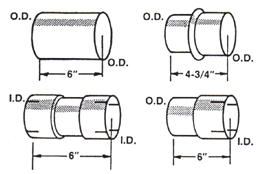 Part Numbers
Beaded
Diameter
O.D.-O.D.
O.D.-O.D.
O.D.-I.D
I.D.-I.D.
2"
89249-A
89261-A
2 1/4"
89262-A
2 1/2"
89244-A
89250-A
89263-A
2 3/4"
89251-A
89264-A
3"
89245-A
89257-A
89164-A
89160-A
3 1/4"
89265-A
3 1/2"
89246-A
89258-A
89165-A
89161-A
4"
89247-A
89259-A
89166-A
89162-A
5"
89248-A
89260-A
89167-A
89163-A
6"
89252-A
89266-A
Reducers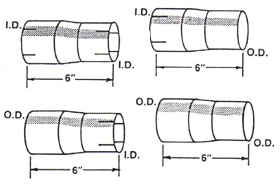 Part Numbers
Diameter
I.D.-I.D.
I.D.-O.D
O.D.-I.D
O.D.-O.D.
2 1/4 x 2"
89267-A
2 1/2 x 2"
89268-A
89180-A
2 1/2 x 2 1/4"
89269-A
89279-A
2 3/4 x 2 1/2"
89270-A
89181-A
3 x 2 1/2"
89271-A
89168-A
89182-A
89253-A
3 x 2 3/4"
89273-A
89169-A
89183-A
3 1/2 x 3"
89274-A
89170-A
89184-A
89254-A
4 x 3"
89275-A
89171-A
89185-A
4 x 3 1/2"
89276-A
89172-A
89186-A
89255-A
5 x 4"
89277-A
89173-A
89187-A
89256-A
5 1/2" 4"
89281-A
6 x 4"
89282-A
6 x 5"
89278-A
89283-A
Tilt Cab Connectors
| Diameter | Type A | Type B | Description | |
| --- | --- | --- | --- | --- |
| 4" O.D. | 90532A | 89975K | Top Connector | - Unslotted |
| 5" 0.D. | 90533A | 89979K | Top Connector | - Unslotted |
| 4" I.D. | 90534A | 89977K | Top Connector | - Slotted |
| 5" I.D. | 90535A | 89981K | Top Connector | - Slotted |
| 4" O.D. | 90536A | 89976K | Bottom Connector | - Unslotted |
| 5" O.D. | 90537A | 89980K | Bottom Connector | - Unslotted |
| 4" I.D. | 90538A | 89978K | Bottom Connector | - Slotted |
| 5" I.D. | 90539A | 89982K | Bottom Connector | - Slotted |
Tilt Cab Connector/Elbow

FreightLiner
W/Bracket
Without
Size
Cir.
Height
Length
Number
As Shown
Bracket
4"
8"
10 1/2"
13"
AO-49828
90540A
90456A
5"
8"
10 1/2"
13"
AO-49601
90541A
90544A
5"
6"
9 3/8"
11"
AO-49829
90542A
90545A
5"
6"
12 7/8"
11 3/4"
AO-49831
90543A
90457A
V-Band Clamps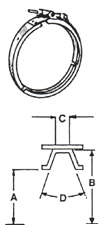 | Dia. | Application | | Stemco | Nelson | A | B | C | D |
| --- | --- | --- | --- | --- | --- | --- | --- | --- |
| 2 1/2" | D9H25A231J | Ford | 250-0005 | 90527K | 3.16 | 3.79 | .44 | 40 |
| 2 3/4" | E0HZ5A231B | Ford | 250-0006 | 90528K | 3.47 | 4.10 | .25 | 40 |
| 3" | D9HT5C210DA | Ford | 250-0012 | 89530K | 3.25 | 3.87 | .42 | 40 |
| 3" | 6V71 | DD | 250-0900 | 89505K | 3.26 | 3.82 | .21 | 40 |
| 3" | V903 | CUM | 250-0930 | 89500K | 3.32 | 3.88 | .40 | 40 |
| 3 1/2" | 3208T | CAT | 250-0004 | 89531K | 3.63 | 4.19 | .40 | 40 |
| 3 1/2" | 338614C1 | IH | 250-0016 | 90529K | 3.75 | 4.31 | .21 | 40 |
| 3 1/2" | Conn. Ends | | 250-0639 | 89512K | 3.75 | 4.31 | .21 | 40 |
| 3 1/2" | 8V71 | DD | 250-0901 | 89006K | 3.94 | 4.50 | .21 | 40 |
| 3 1/2" | VT555 | CUM | 250-1278 | 89501K | 3.69 | 4.25 | .40 | 40 |
| 3 1/2" | OEM Muffler | | 250-0638 | 89511K | 3.40 | 3.96 | .21 | 40 |
| 3 1/8" | 8.2N | DD | 250-0001 | 89508K | 3.48 | 4.06 | .29 | 40 |
| 4" | 8.2T | DD | 250-0002 | 89509K | 4.12 | 4.75 | .16 | 40 |
| 4" | 11ME29 | Mack | 250-0013 | 89532K | 4.38 | 4.94 | .18 | 40 |
| 4" | 4LDE, 4LE, 4LH, 4LS | SW | 250-0014 | 89502K | 4.22 | 4.50 | .26 | 40 |
| 4" | Conn. Ends | | 250-0640 | 89513K | 4.25 | 4.81 | .21 | 40 |
| 4" | 6.71 | DD | 250-0902 | 89507K | 4.32 | 4.91 | .29 | 40 |
| 4" | 48RV2341 | Mack | 250-08001 | 89533K | 4.40 | 4.61 | .16 | 40 |
| 4 7/8" | 8V71T | DD | 250-1017 | 89510K | 4.97 | 5.25 | .26 | 40 |
| 5" | T50 | CUM | 250-0931 | 89503K | 5.32 | 5.88 | .40 | 40 |
| 5" | Conn. Ends | | 250-0970 | 89514K | 5.25 | 5.81 | .21 | 40 |
| 5" | 8V71 SP.MIN | DD | 250-1279 | 90530K | 5.25 | 5.88 | .30 | 40 |
| 5 1/4" | 8V71 | DD | 250-1280 | 90531K | 5.62 | 5.92 | .28 | 40 |
| 6" | T50 Housing | CUM | 250-0015 | 89504K | 6.20 | 6.76 | 1.67 | 40 |
Heavy Duty Clamps

GUILLOTINE CLAMP
2"-6" O.D.
Forms 360°
Seal

FLAT BAND CLAMP
3/8" U-Bolt
Zinc or Chrome Plated
Zinc Plated*
Chrome Plated
Size
Guillotine*
Flat Band
Flat Band
2"
89541K
2 1/4"
89542K
2 1/2"
89543K
2 3/4"
89544K
3"
89545K
89556K
89566K
3 1/4"
89546K
3 1/2"
89547K
89557K
89567K
4"
89548K
89558K
89568K
4 1/2"
90092A
5"
89549K
89559K
89569K
5 1/2"
90161K
6"
89550K
89560K
89570K
Torctite Pre-Formed Clamps
| | I LAP | | II BUTT | |
| --- | --- | --- | --- | --- |
| Size | Aluminized | Stainless | Aluminized | Stainless |
| 2" | 90350A | 90360A | 90370A | 90380A |
| 2 1/4" | 90351A | 90361A | 90371A | 90381A |
| 2 1/2" | 90352A | 90362A | 90372A | 90382A |
| 2 3/4" | 90353A | 90363A | 90373A | 90383A |
| 3" | 90354A | 90364A | 90374A | 90394A |
| 3 1/2" | 90355A | 90365A | 90375A | 90385A |
| 4" | 90356A | 90366A | 90376A | 90386A |
| 4 1/2" | 90357A | 90367A | 90377A | 90387A |
| 5" | 90358A | 90368A | 90378A | 90388A |
| 6" | 90359A | 90369A | 90379A | 90389A |
Type 1 EZ Seal Clamp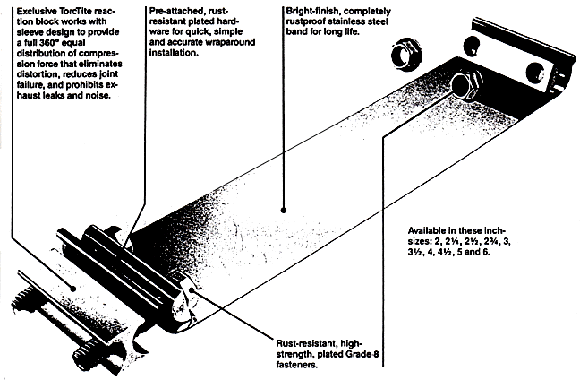 TorcTite™ - the "Seal of Strength"
Product Feature
TorcTite's exclusive, pliable aluminum reaction block conforms tightly to exhaust components providing a superior seal.

Benefit to You!
During installation, the block conforms to the I.D.-O.D. step between pipes, creating a unique seal. The block actually digs into flex hose spirals. Other clamps leave leaky gaps between the clamp band ends and pipes; TorcTite's patented reaction block, specially-formed band and fasteners all work together to seal these leaks. And it seals without loose gaskets or sealant additives.
Product Feature
TorcTite's reaction block will not pinch flex hose and pipes, which means TorcTite will not cause leak paths or damage expensive exhaust components.

Benefit to You!
Other inferior clamps pinch exhaust pipes and flex hose during installation, creating exhaust leak paths. TorcTite's reaction block completes a full 360 degree compressive seal without damage – eliminating pinching, distortion and damage to pipes. Expensive flex hose, pipes and muffler inlets remain unharmed.
Product Feature
TorcTites's exclusive reaction block and independent force bars prevent bolt bending and clamp binding which makes installation time fast and easy.
Benefit to You!
A balanced transfer of forces among TorcTite's specially formed band, reaction block and independent force bars eliminates bending forces on bolts, which keeps installation torque very low. Clamp binding is eliminated, too. The unique balanced design results in a strong, tightly-sealed exhaust joint that assembles quickly and reliably.
Product Feature
TorcTite is the only clamp with fastener hardware pre-attached to a bright-finish band.

Benefit to You!
Installation is fast, easy and accurate. Simply wrap the clamp band with its pre-attached hardware around pipes; insert the extra-long bolts through opposite clamp end, force bars and nuts; and torque. No dropping or fumbling with loose or excessive parts. The pre-formed band makes an accurate I.D.-O.D. installation even easier, and causes no damaging distortion to pipe or flex hose. The high-tensile steel with TorcTite's exclusive reaction block has greater stretching capability than other band clamps.